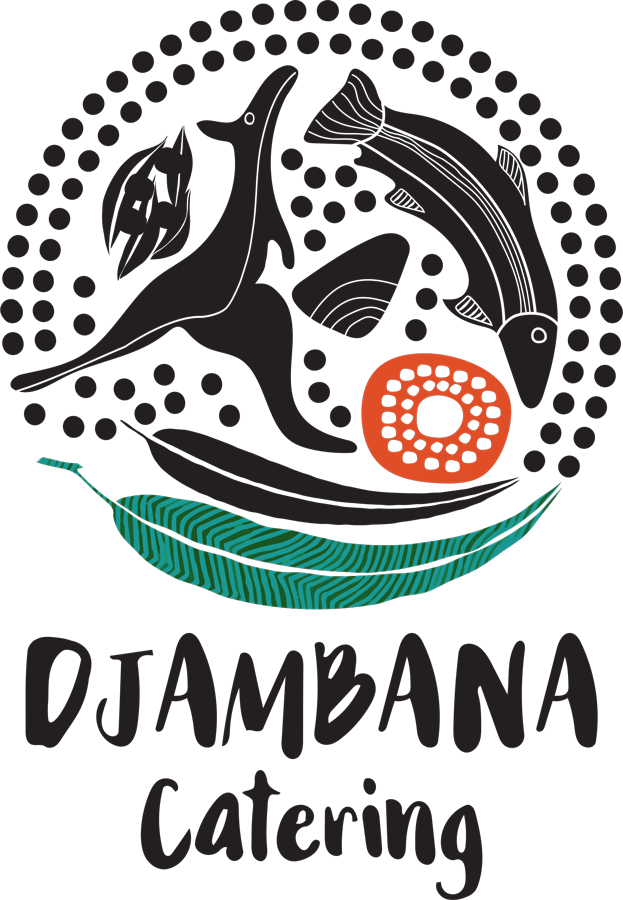 Djambana Catering is an Aboriginal led social enterprise that offers high quality Indigenous inspired food and exceptional customer service at an affordable price.
Our menu items are made from the best Australian native bush and locally farmed and sourced ingredients – introducing our customers to the traditional foods and flavours cultivated by our First Peoples and creating a memorable culinary experience.
Prices of menu items do not include GST.
Customers are strongly encouraged to pick up catering orders.
In some circumstances we may be able to arrange delivery for an additional charge.
Delivery within 3kms is $20. The delivery charge beyond 3kms depends on the location.
All catering boxes, napkins, food containers and cutlery are biodegradable.
Orders placed within 5 business days of booking will incur a late booking fee of 10% (minimum).
Cancellations within 3 business days of the pickup/delivery date will incur a fee of 35%.
See the full list of Catering Terms and Conditions here
About Djambana Catering
Djambana Catering contributes directly to improving the health and well-being of the local First Nations community, and provides employment, hospitality skills development and accredited training opportunities for Aboriginal and Torres Strait Islander youth and adults.
Our customers include local and state government departments, tertiary education institutions, community organisations and commercial businesses. Our expanding client base and repeat business show that customers really appreciate the exceptional quality and service offered by Djambana Catering.
"I just wanted to reach out and say a very big thank you for such a great day! The food was AMAZING and absolutely the highlight of the day! Everyone was blown away with the variety, flavours and abundance of the food. Such a great space and great energy to recharge us."
–
OzChild, October 2023 (Catering and room hire provided at Nairm Marr Djambana).
Some of our happy customers: